12 Most Ultimate Ways for Nonprofits to Engage Their Communities
Years ago, before social networks and online communities, I worked in the nonprofit sector. When we would come up with ideas for projects or events, our greatest tools were the mail, phone calls and fax machines. If we came up with something exciting to share that might be better understood with a visual, packages would go out to interested parties with old VHS tapes, or binders with photos.
I remember speaking to potential supporters, promising to send them our packages knowing that by the time it got to them it would be at least a couple of days before the package would land on their desk. At that point, I knew it would have to stand out somehow because otherwise it would be lost in a pile of paper. The best time to get people to take action is on the spot and when the idea is fresh in their minds. Success days or weeks later is not as sure.
Our best plan would be follow up phone calls to keep the prospective investor or sponsor thinking of us. I was lucky, I had the ear of my potential sponsors — not everyone was as fortunate. You often only have one chance. In the times before social media no matter how you tried, that chance faded when info wasn't immediately accessible.
Nonprofits are challenged in having tight budgets — always looking for funding; always looking for volunteers. Ironically, organizations whose sole purpose is to help others, find themselves in places where they too struggle to survive. Although larger organizations have structures in place to support constant campaigns, it's often the smaller ones that can make huge differences in their local community who have the hardest time.
With the massive influx of our population using social networks, the playing field has suddenly evened out and with the right strategy, any nonprofit can be at the forefront of their community's mind and make their way onto the list of organizations that donors absolutely "must" support.
Here are the 12 most ways for charities to engage their online communities for ultimate fundraising and success.
1. Set up a home base: your blog
The idea of blogging seems overwhelming. The mere mention of it would surely make many non-profits feel as though they don't have the time or the skill set to take on such a task. With some out-of-the-box thinking on what "blogging" means, nonprofits can start blogging immediately.
Many of the items on this 12 Most list are about creating "content" that can be inserted into the blog and be a big part of any entry. The first step is to create a presence in one common spot (a blog) where all of your online activity can lead back to. In addition, your blog doubles as the place where people can find you from web searches thereby increasing your reach. I recommend WordPress as a good place to build your blog. WordPress has many themes you can choose from so you do not need to hire a web designer when you're starting out. If your budget is tight, don't let that stop you — take the first steps and reassess once you have things moving along.
2. Activate a Twitter, Google Plus and Facebook account
You can create all of the content you want, but you also need a way to broadcast this content and create areas for people to dialogue with you. This becomes particularly important at the start of online activity. It will take time for search engines to start indexing you and for you to generate enough content to start coming up in search. Google Plus, Facebook and Twitter are places where you can post much of your content and allow people to reshare and comment on whatever you are posting. It will lead others to your home base website and blog. It will also allow you to create new alliances and friends among influencers and members of your community as people start to share and talk about you with the content you are providing.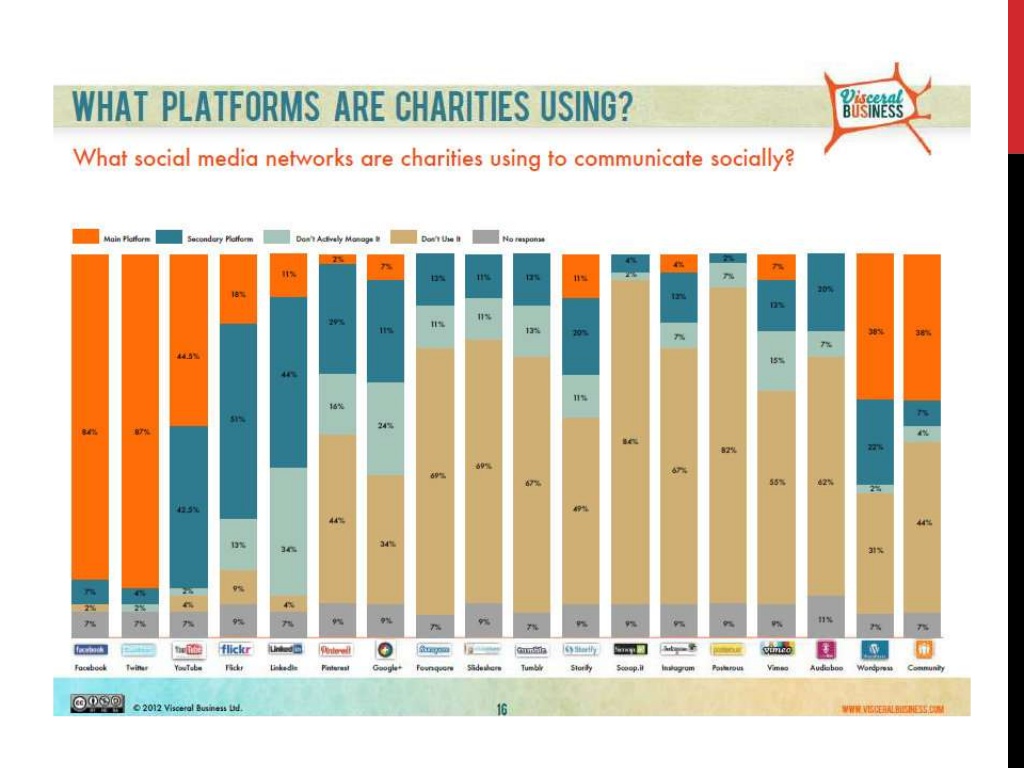 3. Sign up for a free social media helper tool
When you start managing several social sites it can be difficult to keep up. There are many smart tools available to help you with this — some have significant costs — others like Nimble or Commun.it have free versions that will easily help you see when people mention you with helpful suggestions on who to reach out to or reply to. They both provide great ways to make your communications comfortable and manageable as you learn the ropes.
4. Tell your story
It's all about content. So where do you get this from? You have to start thinking opportunity. Every single thing you do is an opportunity to share a story. It does not have to be elaborate. As a nonprofit you are at a distinct advantage because right away in whatever you do, you are doing good. People love hearing about cool initiatives and things that are important to them.
You do not have to limit yourself to events and fund raising drives. Talk about your volunteers, talk about your latest donation, share when you are trying to come up with ideas and ask your population for what they think. Highlight your volunteers and supporters in the community. Use all your platforms to thank people for their support. This is not limited to financial contributions. This can be the local people who have reached out to participate in your events, stores that support you, and especially volunteers. Everyone has a story — share theirs, if they are willing and let people know who is behind all the success you have.
Anything you are doing is a potential story, start thinking in these terms and I guarantee you will find more content. Content is simply an expression of your daily activities and moments. Especially in the non-profit area, the more transparency an organization has, the better it is for attracting donors and support. What better way to accomplish this than by sharing everything and keeping people up to date with your day to day activities? They won't all go viral but that's not the purpose, the purpose is to provide consistent contact and interesting opportunities for people to learn more about you and the behind-the-scenes work of your organization.
5. Start using video — YouTube or an easy mobile app
Video intimidates a lot of people. With constant development in the app world, video is now easy and accessible. If YouTube videos seem like too much of a production, sign up for an app like Vine (6 second videos) or Tout (15 second videos). With a little practice it becomes easy to create quick content and contact points to reach out to your community. Here's an amazing example from "Musicians for Le Bonheur."
Content can then be embedded on your blog, shared on Facebook, and distributed through Twitter or the apps themselves. Because of the very short length of these easier videos, you can get many members of your community to create together. It creates fun and interactive activities for your volunteers and maybe even some of the people you help!
6. Activate an email campaign with a service like Constant Contact or MailChimp
The cost of printing and mailing information is costly and labor intensive. Services like the ones above give you insight into who is reading and clicking through on your communications. They also have free versions.
Although it is recommended to do some form of direct mail, if you communicate to your community that in an effort to maximize their contribution dollars (saving on postage costs, printing and labor) and be kind to the environment (saving paper) you are inviting them to join your email list, you will open the door to lighter and more frequent communications while reducing cost. You don't need to be asking for things in every communication, you can share monthly updates on what activities you have been up to, give them a special view into how their money is being spent, and again, think about also spotlighting your volunteers or members of the community you help.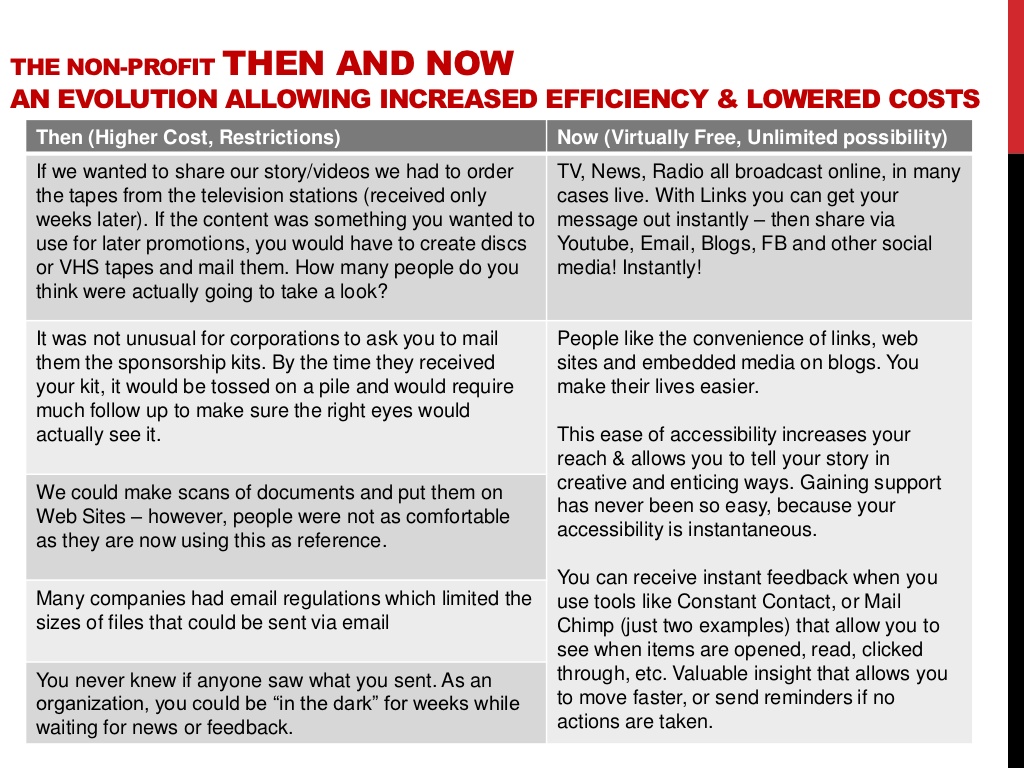 7. Get out into your community and let people know about all this in person!
Social media did not replace face-to-face contact. In fact, if you look at what makes social media communication so successful, it always boils down to people feeling more connected. Get out into the community and be present! You don't need to create huge events to do this — host local BBQ's or potlucks and let your social network contacts know about it. Take pictures and share this afterwards, but get out there and meet people face-to-face. It creates content but also makes relationships deeper. The feedback you get from people one-on-one is precious. You can start a relationship online, but that personal contact becomes important to keep building deeper collaborations and express gratitude in person.
8. Send media releases about what you're doing
Don't forget the media. A lot of people get discouraged about contacting the media because they don't always get the results they want. If you start thinking in terms of opportunity and creating content, you will start to evolve into more of a storyteller. As you share events, ideas, accomplishments or projects online, you should also start identifying what people care about or want to hear about. Make friends with the local media and keep them abreast of your activities. If they find a story they want to share it will support your position in the community and help you reach more people. The media is NOT dead — so don't forget to include them, they are strong allies.
9. Use pictures
With the increased availability of cameras in phones, there is absolutely no reason that an organization cannot make photos a part of their strategy. Join mobile app services like Instagram (check out Charity Water's account for a good example), download apps like Photoshop Express for Mobile and Color Effects which allow you to alter and improve your photos easily, add some creativity and then share your activity and non-profit's personality in pictures. Made with Over is also an excellent app that allows you to put words on photos and is extremely versatile (take photos and put your messages on them — give it a try! People love these things). Pictures can be the most moving and effective tools to promote and share your brand. Don't dismiss the power of a photo.
Also notable is Pinterest. Pinterest is a great place to share photos that link back to your blog or other sites. You can also create boards that focus on the areas of interest your community group or nonprofit is interested in. Your boards should not only include your content but can feature content that supports your vision and interests. If, for example, you are an environmental group, you could create boards that link to blogs or writing about your subject area, photos of community gardens, new clippings or videos in your area of interest.
There is a lot of potential in Pinterest if you start thinking on a broad level. Here's an example from a Diaper Bank — yes, a diaper bank — they got creative and as you can see it's not all about diapers.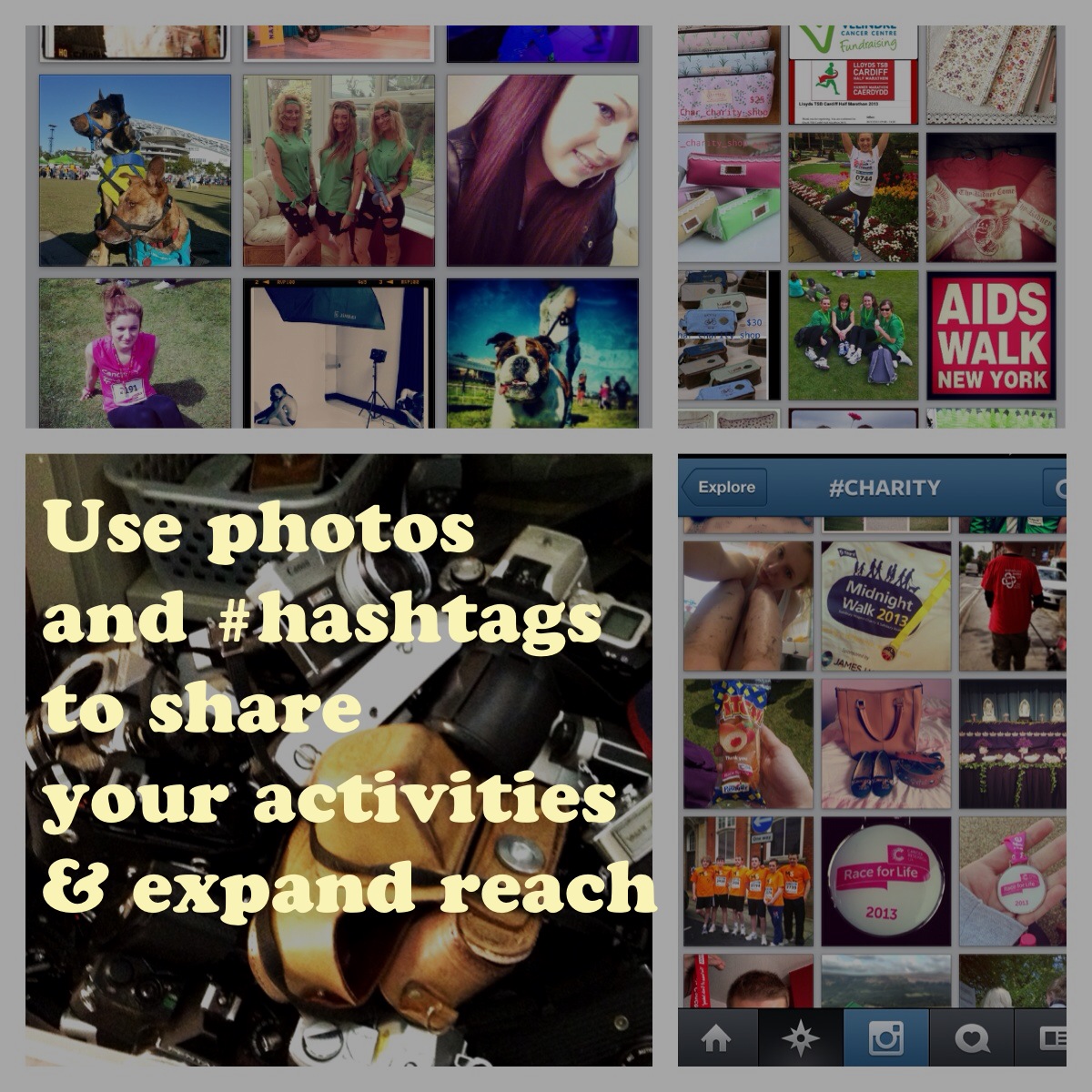 10. Follow other bloggers and organizations that provide content focused on the same goals as yours
Fundraising and sharing the story of their missions — these will be your teachers. Some excellent resources and leaders who focus on using social networks for non-profits are authors Beth Kanter and Marc Pittman. Start following their blogs for great ideas and connect with them online. Do searches for other local community initiatives — connect with them and their followers.
Remember that you can't just take in the community, you have to give too. Be generous with your sharing and highlight others in your community and start a dialogue with them. The strongest collaborations can be born this way. For more examples you can check out my Slideshare presentation on nonprofits.
11. Use Google Hangouts to have brainstorming meetings or spotlight special guest speakers
Back to the concept of transparency. Organizations that rely on the support from the community need to focus on regularly keeping people informed on their activities, as well as providing value in their communications. What better way than to involve the community in your organization than to invite them to sit in on meetings and really have a say in upcoming events or projects? Let people know their opinion is valued — use Google Plus to host hangouts which can involve live participants in general meetings, event planning and even special guests.
The best part is, back to point #5, the Google Hangout can be saved to YouTube and form part of your YouTube channel so anyone can have access at any time. The info can also be embedded into a blog post, and shared on Facebook or Twitter or virtually any site — including your email newsletter. Get everyone involved and don't be afraid to share!
12. Learn about hashtags
Finally, do not disregard hashtags as some strange alien talk. Although hashtags may be best known for their appearance on Twitter, all services are now jumping on board with them, including Facebook and Google Plus. Hashtags are powerful — they join people with common goals, ideas or interests.
Find out which hashtags are relevant to your cause and in your community. Often cities, projects, drives or events have hashtags. Spend some time learning which ones can relate to your cause and use them in your posts. Follow local hashtags to see where or who you can help out with your new found social savvy and start building relationships and partnerships. You will connect with more people and may even create a strong and powerful community around a hashtag if you make one yourself.
What are you waiting for?
Getting into social networking and signing up for social services does not have to be an overwhelming task. The important thing for nonprofits and community organizations to remember is that their greatest advantage is expanding reach and staying at the forefront of their community's minds by being actively present. Long gone are the limited days of quarterly newsletters and sponsorship kits in the mail. These restrictions have been lifted by the constantly evolving and living nature of social media.
It's time for social organizations and community groups to shine. What initiatives have you seen or shared online that have made you feel more connected to your community?
Do you have any favorite causes you love to follow? I'd love to hear your experiences in the comments below.
Featured image courtesy of Stig Nygaard licensed via Creative Commons.
Great post with nice steps
Thanks
@Mila S Araujo Awesome, comprehensive post, Mila! You know as well as I do, the power of online communities — they take time and a certain amount of skill, but you offer concrete steps on how to get there. Nonprofits and others interested in amplifying their online efforts would benefit themselves tremendously by heeding these tips.